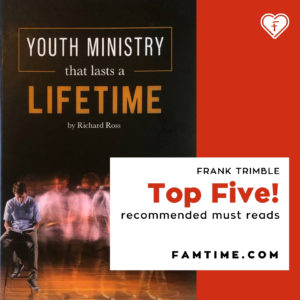 Youth Ministry That Lasts a Lifetime by Dr. Richard Ross
Dr. Richard Ross is a youth ministry professor at Southwestern Baptist Theological Seminary and has served faithfully in that role for several decades. He is a sought-after speaker and author in youth ministry but is also a scholarly and passionate authority in the field of family ministry. I don't think I've ever met someone with a passion for home discipleship like that of Dr. Ross.
From the moment I met him, he has consistently reminded me of the supremacy of Jesus Christ. His devotionals at the start of every class session reflect a man that has really been in the presence of the Lord. When Dr. Ross says that he will pray for you, that means that he will most certainly do so in his early morning walk around the neighborhood. I respect this man so much and believe that he remains the most needed voice in youth ministry today.
I remember the D6 conference in which Dr. Ross unveiled his new book "Youth Ministry that Lasts a Lifetime." If I'm not mistaken, this book was the most purchased book that weekend partially because of Dr. Ross' passionate message which highlighted the key features of the book's content on the main stage of the conference. Yes, this is a youth ministry book, but Dr. Ross' passion for empowering parents, generational discipleship, and youth ministry shines through.
Although it was difficult to choose, here are my Top 5 quotes from this important book:
1. "Youth ministry has its share of shortcomings, but a limited view of Christ may be the most
important of all. Until teenagers see and adore Christ as their monarch rather than their
mascot, little else will change." (17)
2. "Spiritually lethargic parents create spiritually lethargic young adults. Spiritually alive
parents create young disciples who join King Jesus in Changing the world." (63)
3. "If Christian parents would take a clear stand against allowing their children to participate
in activities on Sunday morning, most leagues and other competitions would have no
choice but to move to other days and times. At the very best, parents and teenagers need
to communicate to leaders at the very beginning that they will be faithful to team
obligations—except Sunday participation." (85)
4. Parents can be grateful for any assistance the church is giving in teaching a God-centered
worldview to their children. But at the same time, parents cannot abdicate to the church
the final responsibility for ensuring this is done." (102)
5. "Parents need to provide full support for education and ministries that are targeted to
specific age groups of children and youth. Parents also need to champion church
experiences that bring families together." (118)
This book is balanced, biblical, and well-researched. While the focus may be on youth ministry, this book can easily be adapted to the need of children's ministry, college ministry, or any others that could be categorized under the umbrella of next-gen. It is filled with appropriate research from a biblical scholar and yet it provides a mountain of practical tips that will enable any youth ministry to apply its principles. Your church may not believe in the use of age-segmented programing, and I respect that viewpoint. However, if you're a church that believes in having programing for 0-18 year olds, this book could serve as a one stop shop to bring health to your next-gen. culture.
Youth Ministry gets a bad rap these days, and there are many poor examples to pull from. However, this book shines through as a timely resource for those that are prayerfully seeking a reformation in the field.
Without exaggeration, I believe this is the most important book on youth ministry available today. You'll not regret reading it and continuing to use it as a reference for the health of your church and the families that call it home.